HANDLING TOOLS
At KenzFigee we have a long track record of designing and manufacturing a wide range of offshore equipment. All equipment is manufactured by ourselves and customized according to client specifications.
KenzFigee is highly flexible in engineering and offers a high level of expertise in manufacturing tailor-made handling equipment:
Winches
A-frame Snubber
Jacket Levelling Tool
Jacket Pile Gripper
Slew Bearing Removal Table
Stand-alone Active Heave Compensation Unit
FPSO Surge Damper System
Tensioner
KenzFigee ensures the best and most efficient solution for your handling needs!
A&R WINCHES
Abondonment/Recovery pipes & cables seabed
Up to 300t line pull capacity
Up to 3,500m spooling capacity
Active Heave Compensated
Customized
A-FRAME SNUBBER
Suitable for subsea ploughs up to 210t
Motion damping in roll, pitch & heave direction up to Hs=3m
Integration with vessel HPU
A-frame & snubber control from bridge, control cabin & deck
Design according Bureau Veritas
Customized
JACKET LEVELLING TOOL
900t levelling system
2x 450t levelling units
94″-135″ (2.4-3.4m) pile diameter
Clamping by hydraulic cylinder
Hotstab connection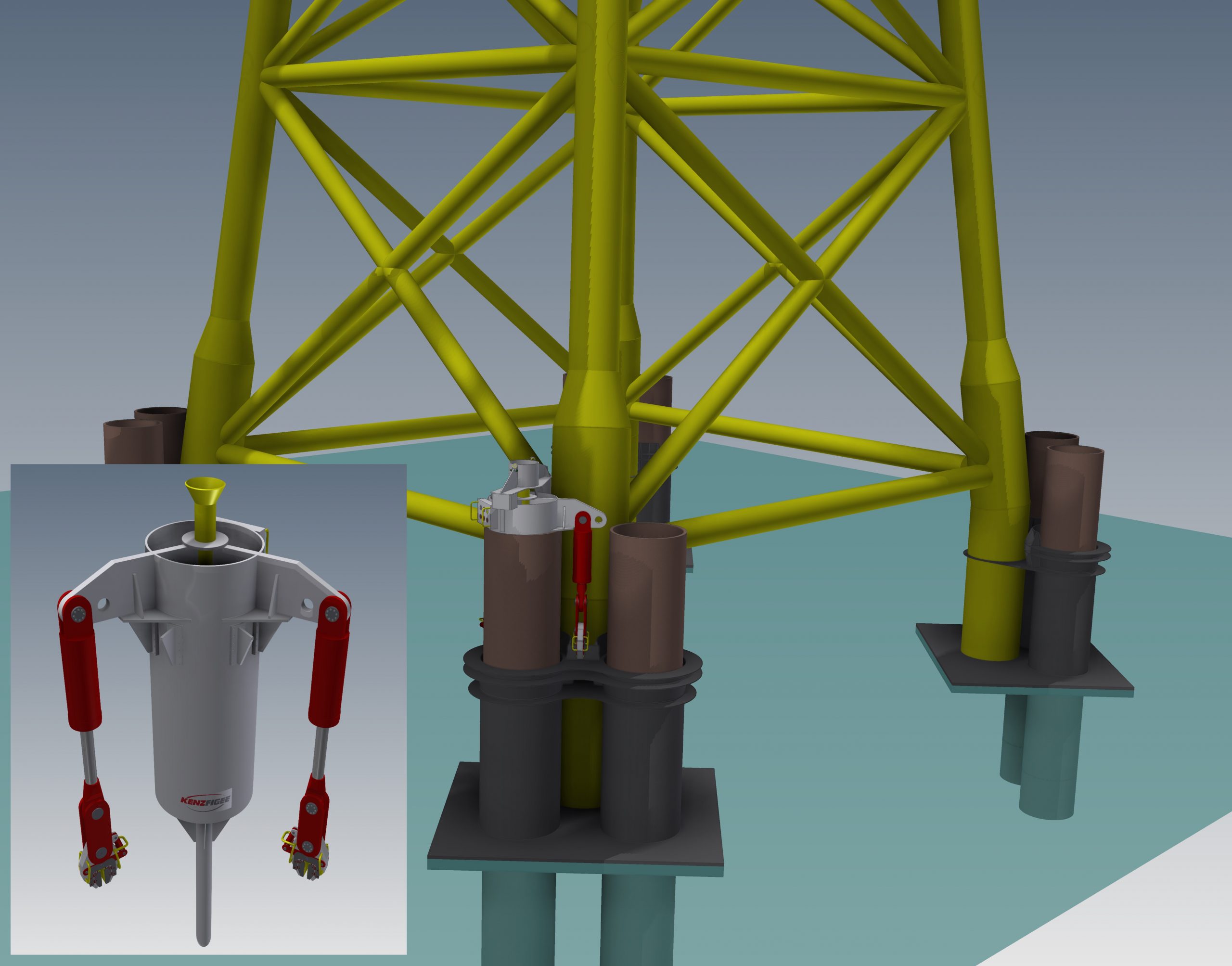 JACKET PILE GRIPPER
Designed acc DNVGL-St-0126
Internal clamping by 5 cylinders
Levelling by 8 cylinders
Diameter pile 2.5m
SLEW BEARING REMOVAL TABLE
Customized to platform interface
Slew bearing up to 8m
FPSO SURGE DAMPER
Client: Bluewater
Platform: FPSO Yu.Korchagin
2x 200t hydraulic damping cylinders
7.2m stroke
1.7m/s cylinder velocity
TENSIONER
Client: Blue Offshore
Crane vessel: Boskalis Giant 7
Capacity 5t
Fully electric
KenzFigee reports significant commercial and operational milestones of their UK branch.
KenzFigee has signed a contract with LiftWerx for delivery of three up-tower cranes at the WindEnergy Conference & Exhibition in Hamburg.
KenzFigee officially launches its first up-tower crane solution for offshore application at the WindEnergy Conference & Exhibition in Hamburg.